Certification Services
We service leading global Fortune 500 companies and smaller manufacturers in certification, regulatory intelligence and in-country support. Our time to market strategy in Latin America is fast and attributed to our direct relationships with leading regulatory agencies like ANATEL, NYCE, IFETEL, SUBTEL, MTC, and many other agencies in Latin America.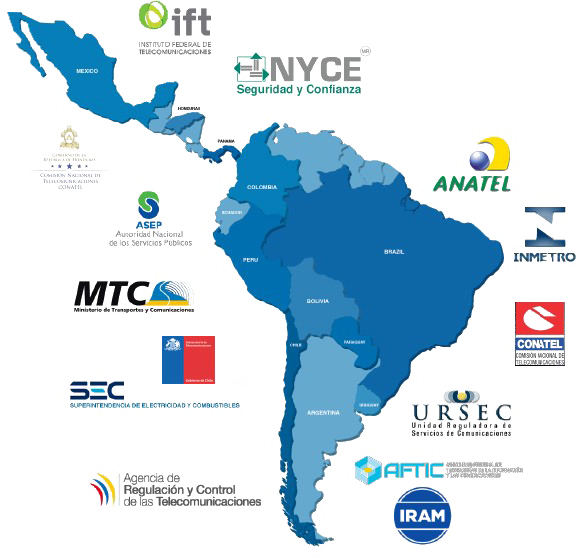 Certifications
In-Country Testing Management
ORBIS facilitates EMC, Safety, Wireless, SAR DFS, and Energy Star Product Testing.
ORBIS provides product pre-testing in Brazil, an exclusive service for ORBIS Clientele.
We partner only with the most reliable labs in Brazil, Mexico and Argentina.
We have an engineering presence in all countries ensuring full control of the testing cycle.
Export & Import of Samples
Full guidance and support for the delivery of samples to Brazil, Mexico, Argentina and the rest of Latin America.
Local importer and in-country ORBIS personnel support.
Coordination of sample delivery and scheduling with in-country labs.
Tracking of samples to ensure scheduled delivery dates.
Certificate
Renewals
Proactive management of the life cycle of the Product Certificate.
System alerts prior to certificate expiration.
Impact alerts of regulatory changes and how they affect product renewals.
Expert Project Management
Projects professionally managed by certified Project Managers.
Weekly progress reports detailing latest status and stage of the certification.
On demand web access to your project's certification updates.
Complete project transparency throughout the certification process.
ORBIS Certifies Products Directly
with regulators providing our clients with expedient service as we work hand in hand with regulators to obtain product approvals.
Regulatory
Intelligence
Regulatory Intelligence
Targeted news by industry highlighting the lastest regulatory news.
Customized analysis and impact on client's product portfolios.
Early access to regulatory developments allowing you to readjust your strategy


Intelligence Experts
Respected industry experts working alongside to make your project successful.
Proven experience with decades of involvement in the compliance industry.
Active involvement and membership in IEEE Compliance Societies.


Local Coverage
In-Country presence throughout Latin America, protecting your proprietary intelligence.
Complete support from inception to certification and importation of your product.
In-country experts helping you navigate the regulatory maze.
In-Country
Strategic Support
In-Country Advocates
Strong partnership with our clientele before, during and after the certifcation process.
Local guidance, analysis and lobbying efforts from in-country experts.
Facilitating resolution of compliance challenges before regulatory agencies.
©2017 ORBIS Compliance - All Rights Reserved